It is time to adapt, to move forward.
This article wants to show everybody that if you are an international student with plans to stay longer in Australia, finding a different industry may help you in the future with a job that you can keep either work from home or at the office, being involved in an essential job that not even a pandemic can stops.
The hospitality industry was severally affected by the self-isolation and restrictions during the COVID-19 outbreak, thousands of international students who used to work as Waiters, Kitchen hands and Dishwashers are now holding tight looking for a new way of living.
"As part of the hospitality industry, I found myself lost, confused and abandoned. That was the first time I realized that I was working for an industry targeted as Non-essential. It was a wakeup call for me. That is why I want to show everybody the type of jobs that are now booming and that you can find if you study or had previous experience on it" Santiago Munevar, Waiter who lost his job and now work as a Content Writer".
"It's not the strongest or fittest that survive, but those who can adapt", Charles Darwin.
A recent Gartner HR survey has revealed that 88 per cent of organizations have encouraged or required employees to work from home due to coronavirus, while most organizations are focusing on measures such as more effective use of technology and freezing new hiring to cut costs. In other words, all the companies needs Marketing and Marketers!
Marketing involves promoting particular products and services to consumers, and convincing consumers that they should buy those products. If you love the idea of learning about products and consumers and finding creative ways to sell products to a target audience, a marketing course, bachelor or Masters might be right for you. (info about prices here)
I started looking on Gumtree, then Seek Jobs and after LinkedIn, all of them are constantly offering marketing positions, especially on the digital area.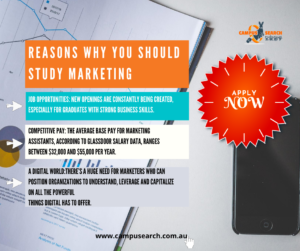 Why?
Accordion to the website Glassdoor: 'Marketing is a constantly evolving industry. Every year, there are new technologies, new social trends and new markets to design marketing and advertising strategies around. This also means that there is a wealth of opportunities within the field that are constantly arising for people from diverse skill backgrounds, from technology to art.
Another benefit of going into marketing is that you don't always need a degree to break in. In addition, unlike fields like engineering or medicine, the academic degree you hold doesn't necessarily need to correlate with what you do in your job every day. If you're just getting started in marketing, entry-level marketing positions already have relatively competitive pay: the average base pays for marketing assistants, according to Glassdoor salary data, for example, ranges between $32,000 and $55,000 per year'. Although, we always recommend to have studies in marketing, companies prefer someone with a marketing background.
Everything is digital now, if your brand has no presence on the Internet, it might not exist, this is a big opportunity for marketers, especially during COVID-19 times.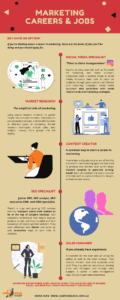 For Michael Fennemore, Professor of Marketing and Communications, international students are the ones who brings the passion and creativity promoting products and services who are made Out of Australia. (You may like to read:
How to find a work in a post Covid -19 Era
)
"The Coffee in Australia is Colombian, who do you think have the talent to promote it? A Colombian off course, he knows the story behind, he can tell us and drive us through the process that this coffee bean had experience all along from the Colombian fields to your mug".

Australia is a big island and most of the products are made in here but with an overseas history/background and there is where the international student who is studying Marketing in Australia has a big shot, he needs to be skillful and creative, that is a must in this industry.
It is important to know this as well: if you are still not comfortable with your level of English you should try to study an English course before or apply for a job in marketing more related with research market, a position where you don't need to interact directly with the customer.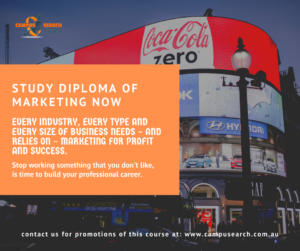 To conclude, Marketing is an amazing and evolving industry if you think you are skilled in Marketing and you want to had a job in the future on this industry, we highly recommend you to study a career or a vocational course on this area.
We are not saying that Hospitality will fall down, we just wanted to show you the multiple options that you have right now, the variety of positions that this industry offers creates an environment where the competitors had more chances to found a stable job. You might be feeling lost right now, but new opportunities are always waiting for being discovered.
By Campus Search.